Keurig K575 Single-Serve K-Cup Pod Coffee Maker Review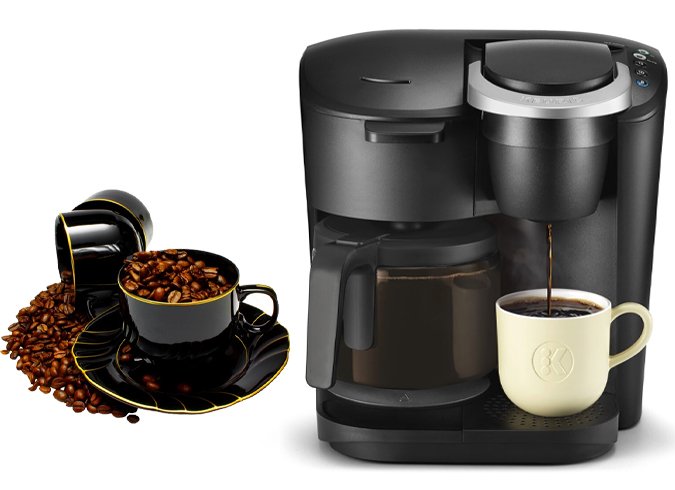 Keurig K575 Single-Serve K-Cup Pod Coffee Maker Review
Generally, there are various models of Keurig coffee makers so it is really confusing to select the best alternatives. Some of the top models of Keurig are K575, K55, K145 and K250 although there are a number of other Keurig model as well, but these are the top rated ones. Every model of Keurig coffee maker has few distinct features which give them an upper hand from other coffee maker brands. But in this article, we will mainly discuss about K575 as it is generally considered as the best Keurig coffee maker model.
Main features of Keurig K575
In this section, we will mainly discuss about the most appealing features of the Keurig K575 which gives an upper hand to the Keurig K575 coffee maker and specifically due to the features mentioned below majority of the customers prefer to use this model.
High Capacity Water Reservoir
The most essential feature of Keurig K575 coffee maker is its high capacity water reservoir which enables you to make 10-12 cups of coffee with a single refilling of its water reservoir. Therefore, due to its large capacity of water reservoir, you don't need to constantly refill the water reservoir which is a big advantage of this coffee maker when you have to serve a large number of guests.
Compatible with other Beverages
Apart from making coffee, you can also use Keurig K575 for making tea, hot chocolate, cocoa. You can even make ice tea with the help of this device.
High-quality Programmable Features
Keurig K575 generally offers a number of programmable features that you can easily set up with the help of its LCD touch screen.
Energy Efficient device
You can program this device to turn off or turn on automatically which enables you to conserve electricity and hence this feature makes Keurig K575 a top quality energy efficient device.
Strength and temperature control settings
As mentioned earlier, this device comes with Strength Control settings that enables you to use coffee cups of different weights and hence you can easily use a heavy cup on this device and moreover, due to the availability of multiple sizes of K-cup pod you can use cups of different sizes as well. Apart from Strength control settings, you will also find five different types of temperature control settings that enable you to acquire coffee of your preferred temperature. On this device, you will also find a hot water demand button which you can use to get hot water.
Huge LCD touch screen
Keurig K575 offers a huge LCD touch screen which helps you to use this device very easily. By using the touch screen  you will be able to set an appropriate timer and even use the automatic on and off button that eventually helps you to save electricity and hence conserve energy.
Pros
Keurig K575 is a user-friendly device.
This device comes with a huge water reservoir.
It can be easily installed in homes and offices.
Apart from coffee, Keurig K575 can also be used to make cocoa, tea and hot chocolate, etc.
Heavy cups can be used because of its strength control settings.
This device comes with an automatic on/off button.
Keurig K575 has hot water on demand button which helps to acquire hot water whenever required.
Cons
It makes a lot of noise while brewing.

 It takes

 a little longer to heat up the first cup.
This device is a bit expensive.
Keurig K575 Single Serve K-Cup Pod Coffee Maker Review
Keurig K575 comes with the most amazing features of Keurig's 2.0 brewing technology. This Keurig coffee maker is designed in such a way that it enables you to use the lids of K-cup mugs, K-cup and most importantly it also accepts the lid of the K-carafe. Another exciting feature of K575 model is that it comes with different varieties of night light which generally illuminate your kitchen during the night time. Moreover, this model is also very user-friendly and hence you will be able to easily operate K575 even if you are using it for the first time. Keurig K575 coffee maker comes with a strength control setting which helps you to use a bolder and harder cup without facing any sorts of problem. Apart from strength control settings Keurig K575 also comes with five different temperature settings which will always help you to get a coffee of your preferred temperature. In this coffee maker, the brew sizes up to 30oz while the water reservoir size is 80 oz. The dimensions of Keurig K575 is 13.2" H X 10.5"W X 13.3"D. This model is available in a premium platinum colour which gives your kitchen an elegant look and hence a large number of customers prefer to use this device. 
Conclusion
As promised at the beginning of this article we have discussed in details about the Keurig K575 coffee maker. So, if you go through this Keurig K575 coffee maker review thoroughly, you will definitely understand that Keurig K575 is indeed the best coffee maker by Keurig.