Cuisinart DBM-8 Supreme Grind Automatic Burr Mill – Reviews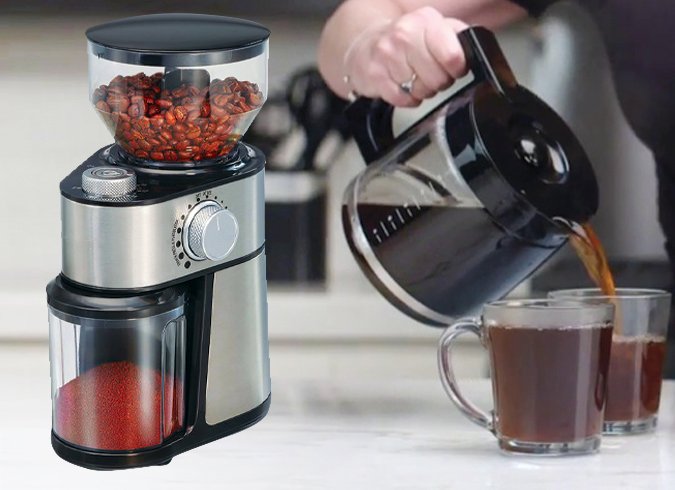 Cuisinart DBM-8 Supreme Grind Automatic Burr Mill – Reviews
Material: Stainless Steel & Plastic
Cord length : 34 Inches
Weight: 4.5 lbs
Dimensions: 6.00 L x 7.13 W x 10.75 H inches
A cup of fresh ground coffee leads you up for a great day ahead. Not every Burr mill takes you to the level of quality it requires, but having a one with the abandon of features while maintaining the quality of the coffee seeds surely does it so. We are here going to introduce with one of the fines burr mills in the market, i.e., Cuisinart DBM-8 Supreme Grind Automatic Burr Mill. For the enriching the taste of your coffee and for offering an old taste for the homebrewers, this automatic burr mill is a suitable option for stable pour-over and evenly particle distribution.
Product Features
Stainless construction for improved durability
Convenient storage for further usage
Electric timer for automatic shut off
18 position grind selectors
Removable grind chamber
One touch power bar
Heavy duty motor and convenient usage and cleaning
Pros
Electric timer with automatic shutoff
Storage for 32 cups
Easy cleaning
Removable grind chamber
Easy cord storage
Beautiful design
One touch power bar
Cons
Too much messy
Loud and slow
Not suitable for espresso
Check the Tips Before Buying a Grind Automatic Burr Mill
Selecting a perfect burr mill is not an easy task that everyone can easily accomplish. From your budget to the quality of coffee it produces, there are a lot of things that you surely need to take under consideration. Being a homebrewer, if you are also going to purchase perfect burr mill, product durability, convenience, and grind consistency are a few terms that you surely need to keep in mind.
Size of the particles and consistency: Flavor and aroma are the words that are directly associated with the factor of how finely your coffee is being ground. So if you are looking for a burr mill checks out the one that suits well to the size of the particles and its consistency. Of course, the quality of the coffee beans is one of the most important aspects, but how finely it is ground also makes a more significant impact on the same.
Budget: Coffee grinder is undoubtedly not a cheap thing to purchase on. So if you are planning to spend on the purchase of coffee grinder, get the one with high end grinding so that you can enjoy the full flavor from it.
Take a look at capacity: Every product comes up with its limitations and abilities, so if you are planning to purchase a coffee grinder, get the one that can hold a specific amount of coffee in it. If you are willing to have better flavor, try to grind the beans just before each time you brew it. Rather than depending upon a high capacity grinder, you can opt for the smaller ones as well if you are willing to have it for your little family.
Check the Speed: If you are willing to have an electric grinder for your home, hold on your horses for fewer minutes. Usually, the mills with very high speed produce more heat, and hence the chances of burning the coffee are a little bit higher. So if you don't want the flavor and aroma to be suffered, try to start and stop each time you grind the coffee.
Ease of Use and Cleaning: Usually the coffee grinders are much more complicated to use and clean, so having the one very easy to use and clean will make it a smooth ride for you.
Cuisinart DBM-8 Supreme Grind Automatic Burr Mill
Enjoy the world of excellent coffee with freshly grounded beans and make your cup of coffee a full package of flavor, taste, and freshness. This beautiful burr mill is being designed with elegant brushed stainless steel to offer you 18 levels of coffee grinding. You can now hassle-free grind the coffee beans from ultra-fine to extra coarse rates and can make it as per your flavor and taste. With an automatic stop feature, the device is being designed to offer you consistent grinding with right grades, maximizing oils, aromas, and flavors the burr mill provides you to have a perfect cup of coffee for you. Moreover, if we talk about the capacity of the coffee grinder, you can quickly grind about four to eighteen cups and can also store the remaining grounds in the provided chamber for later usage.
Conclusion
Perfectly designed for a cup of coffee, Cuisinart DBM-8 Supreme Grind Automatic Burr Mill is a design that will make it easy for you to create four to twelve cup of coffee quickly. The device is perfectly designed to offer you great grind settings so that you can have finely ground coffee beans while maintaining the flavor and taste of your coffee. The removable grinding chamber with full opening lid is there to store your remaining coffee for further usage.