10 Best Indoor Grills for Delicious Cooking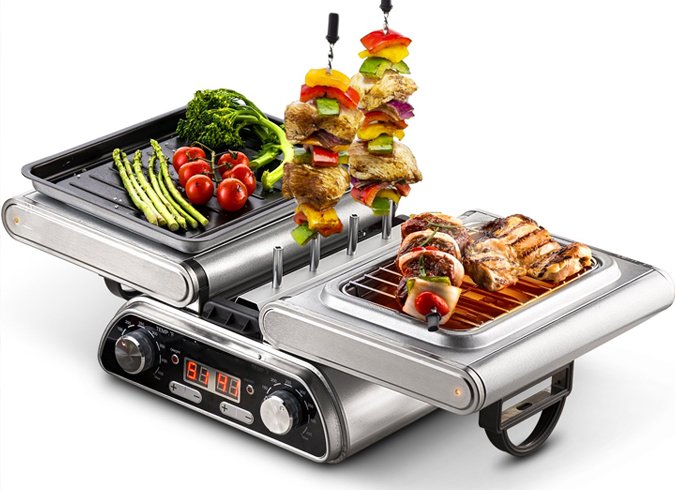 10 Best Indoor Grills for Delicious Cooking
10 Best Indoor Grills for Delicious Cooking
Whether you want to enjoy grilled food all year-round or cook something for a house party, grilling at the comfort of your home is pure bliss. There is no denying that the success of your meal depends a lot on the quality of your grill. With no dripping grease or batter coating, grilled foods are generally a healthier choice. These days grills are equipped with features like temperature-control knobs, nonstick cooktop coatings, and two-sided cooking surfaces to help you grill with minimal effort. There are different types of indoor grills, and all work in different ways. Gas grills can be easily attached to your kitchen's gas lines while the electric grill is the safest and easiest grill to use. Great for small spaces, these are great for small patios or balconies. If you are planning to buy a new grill, it is but obvious to get overwhelmed with the seemingly endless options. There's a grill to fit every cooking style and budget. To narrow down your search, we've listed some of the best indoor grills available in the market:
Quite straightforward to use, this grill with removable plates is an ideal appliance for cooking when you want a quick solution. It has advanced George Tough nonstick- coating that removes the need for butter and oil; therefore, it is easier to clean. The sloped grilling surface helps remove up to 42% of fat from meats for lean, tasty meals. The coverage of the grill is even, and it heats up faster than most of the grills. Equipped with improved heating elements, it preheats 35% faster to get you from plug-in to plate in record time. It is a contact grill, which means it can cook both sides evenly at once. It's 60 square inches cooking surface lets you cook even for a small group of people. Moreover, the removable grill plates are dishwasher-safe, making cleaning quicker and easier. The 1-inch adjustable hinge accommodates a variety of cuts of meat and vegetables. Perfect for busy lifestyles, it can cook quick meals in just 10 minutes. However, it lacks temperature control settings.
Features –
Removable plates for easy cleaning.
Contact grill formula takes less time, and cook both sides evenly.
Quite simple to use, it can easily earn a spot in your kitchen.
Preheat is 35% faster and takes about 3-5 minutes to heat properly.
2 times better coating for more durability.
Ensures a healthier meal by removing up to 42% of fat from meats for lean, tasty meals.
Overall, it is an excellent family-sized electric grill that comes at a reasonable price point and is perfect for those on a budget.
Material: Stainless Steel
Colour: Stainless Steel
Weight: 8.14 lbs
Dimensions: 12.4 x 16.73 x 6.81 inches
This pretty and lightweight grill comes with a convenient window in lid that lets you watch food cook while keeping heat inside. Featuring powerful heating elements, it brings out meat's best flavor. Its high searing capability with 450 degrees Fahrenheit will keep your meat tender and juicy. The cooking surface is 90-square-inch grilling surface to cook for a handful of people, but not big enough to cook for a huge group. Features such as electronic controls, indicator lights, and removable grids add to the convenience. The indoor grill hood, plate, and drip tray are dishwasher safe. The extra-large drip tray easily catches excess juice or grease. This indoor grill will get you a perfect meal, which will taste like an outdoor grill.
It has a clamshell design, i.e., the upper lid is not a heating surface. So, you have to flip over the food to cook it on both sides. It offers 11 different temperature settings to customize grilling and deliver delicious results every time. Quite easy to use, it can grill multiple items at once. It has a superior non-stick coating on one side and does not need any pre-heating with oils. It warrants for 1 year.
Features –
High searing capability up to 450 degrees Fahrenheit locks in juices.
Plates and drip tray are dishwasher safe
Window in the lid lets you watch food as it cooks.
Adjustable temperature control and power and preheat lights.
Removable nonstick plate and drip trayfor easy dishwasher cleanup.
Overall, it is a well-designed kitchen appliance that lets you cook different types of food quickly. Genuinely priced, this one is a total value for money.
Featuring a sleek look, it has an open-grill design and non-slip feet to ensure that your electric grill stays in place. Equipped with advanced infrared heating technology, this indoor grill cooks your food evenly and perfectly while reducing the amount of smoke by 80%. The special reflectors guide the heat and reduce oil splattering caused by burning fat. It is easy to set-up and can grill almost everything. It grills your steaks to perfection with one constant temperature.
The grill quickly heats up to a constant 446° F degrees, allowing you to sear meat and maintains that temperature throughout the entire cooking process. It is incredibly easy to set-up and use. Due to its non-stick surface, there's no need to butter or oil up the grill in advance. Wipe the non-stick surfaces clean is also simply a breeze. Their patented design means excess oil and grease drips onto a cool tray, reducing smoke to an absolute minimum. However, it lacks temperature controls and heat settings. It comes pre-installed with three basic settings: On, Off, and Warm. 
Features –
Infrared technology with elements located at various angles for even grilling at 446 ̊F
Advanced technology for up to 80% less smoke
Non-stick cast aluminum grill with wide grates for perfect grill marks.
All removable parts are dishwasher-safe, making cleaning easier.
Excess oil and grease fall into the drip tray, making this a leaner option.
Overall, this is a great indoor grill perfect if you want to cook amazingly grilled food, indoors. It features an expensive price tag than most other grills, but given the quality, the excess price-tag is justified.
Colour: Black
Weight: 10.8 pounds
Interior: Non-Stick Cooking Surface
Dimensions: 19.7 x 13.2 x 6.7 inches
Featuring an extra-large 12-by-6-inch cooking surface, the grill cooks food consistently and thoroughly for amazing results. The cooking surface is made of die-cast aluminum that ensures high-quality cooking and durability. It has an M-shaped design of the embedded heating element which distributes heat evenly for consistently grilled food. The tempered glass lid keeps the food juicy. It features a detachable thermostat with five temperature levels so that you cook food on your desired temperature. The grill's nonstick cooking surface ensures fast and easy cleanup. The removable non-stick drip pan nonstick drip pan collects drippings while you grill. The pan is dishwasher safe for convenience. It features an on/off indicator light and cool-touch handles for easy movement after grilling is complete.
Features –
Non-stick cooking plates and drip tray are removable and easy to clean.
Wide cooking surface allows you to cook multiple items at once.
Embedded heating element distributes the heat evenly through the whole cooking surface.
Detachable and adjustable thermostat
Comes with on/off indicator light to offer convenience.
Genuinely priced, it has every function you would want from an indoor grill. It is a perfect fit for any kitchen and lets you enjoy consistent grilled foods whenever you want!
Material: Stainless Steel
Weight: 18.96 lbs
Dimensions: 16 x 14 x 5 inches
Feature: 6 adjustable height settings
With better heat control and recovery with embedded elements, this product completely re-envisions the art of indoor grilling. Made of sturdy stainless steel, it features a clamshell design and element IQ technology. With 1800W heating elements embedded into the plates, it preheats extremely fast and cooks with consistent high-heat. It comes with an efficient thermometer that helps maintain accurate temperature and has 6 different heights to prevent toppings from being pressed out of sandwiches. Various other special settings allow you to cook on different modes. It has a premium quality PFOA free non-stick coating for easy cleaning. The integrated, removable drip tray is dishwasher-safe. It also offers 310- 450F variable temperature control with Low, Panini, and Sear Modes. The best part is that it opens flat to work as Barbeque grill. It easily reaches the ideal temperature to cook your food like an outdoor grill. It features a sound alert and a countdown timer.
Features –
1800 watt embedded heating design
Six adjustable height settings depending on food thickness
Removable and dishwasher safe plates
Opens flat to 'BBQ Mode.
Element IQ technology for faster cooking.
Temperature control (320F – 450F with low, Panini and sear mode
Overall, it is a high power grill that can cook food quickly and at high temperatures. Though it features a bit high price-tag, but then you get what you pay for.
Weight: 52 pounds
Material: porcelain, steel, cast_iron
Dimensions: 25.6 x 39.8 x 39.8 inches
Features: Folding side shelves provide plenty of work and prep space
It is a great option for people who have a small footprint and cannot afford to use gas or charcoal. It's a great looking, straightforward grill with just one heating element. Powered by Electric TRU-Infrared cooking system allows you to cook your food evenly with less flare-ups – juicier food, every time. It limits the hot air flow and use natural, radiant heat to cook food directly without drying. It virtually eliminates flare-ups while producing very even heat.
Assembly is trouble-free and takes a bit over an hour. Offering plenty of grilling space with its 320-square-inch grilling area, it is large enough to accommodate 8 to 12 hamburgers. The precision dial gives you complete command over this 1750-watt electric burner. The porcelain-coated cooking grates are rust-resistant and easy to clean. The grease tray can also be removed and cleaned easily. It features a temperature gauge on top of the hood that allows easy monitoring of the grill's temperature. You can simply wheel the grill away for easy storage.
Features –
Compact enough for small patios or balconies.
The tru-infrared cooking system provides easily controllable heat
320-square-inch grilling area
Porcelain-coated cooking grates are easy to clean
Locks its natural juices and flavors of the food without drying it.
For all those who want an easy grilling experience at an affordable price, without dealing with the hassle of a charcoal or gas grill, this one is perfect for you.
Material: nonstick ceramic coating
Performance : Long-lasting performance and easy cleanup
Removable stand that lets you get the same delicious results indoors and outdoors
No charcoal, no propane, and no flare-ups! Safe-to-use grill for balconies and small spaces, it doubles as an indoor grill. It includes a fat draining and collecting system that keeps your food away from cooking in excess fat. With 240 square inches of circular grilling surface, it is large enough to cook for a crowd. It has George Tough non-stick Coating that removes the need for butter and oil, therefore is easy to clean.
Its large domed lid gives you a lot more overhead cooking space. The easy-to-remove stand takes you from patio to countertop in no time. The adjustable temperature control probe lets you choose from five heat settings to grill the best food. The drip tray collects excess fat and grease and is dishwasher safe. 
Features –
Adjustable temperature probe.
Aluminum coated non-stick grilling surface
240 square inches of circular grilling surface lets you cook for large groups of people.
High quality grilling with no charcoal, no propane, and no flare-ups.
The sloped grilling surface helps remove up to 42% of fat* from meats for lean, tasty meals.
Highly affordable, this one is perfect if you want to experience the power and convenience of electric grilling, without breaking the bank.
Material: Aluminum
Dimensions: 23.5 x 27 x 20.5 inches
Weight: 29.3 pounds
Features: Porcelain-enameled cast-iron cooking grates and cast aluminum lid and body
Easily portable, Q1400 is the smallest model in Weber's electric line. Equipped with a 1560-watt electric heating element, it can easily heat its wide189 square-inches of total cooking area. Due to its small size, it is perfect for a small family. It's aluminum shell retains heat well and can easily withstand the outside elements. The glass-reinforced nylon frame adds durability. The porcelain-coated cast-iron grates distribute heat evenly and give meat the beautiful sear marks. The porcelain coating also makes the grates easy to clean. The infinite heat settings allow you to adjust the temperatures as per your cooking needs. It comes with a 6 foot grounded power cord that makes it easy to connect to a power source. The removable catch pan allows for easy disposal of grease drippings.
Features –
Porcelain-coated cast-iron grates for easy cleaning and maintenance.
 Heat control settings to adjust the temperatures.
Can generate high temperature to sear and cook the meat properly.
A 1560-watt electric heating element
Featuring an impeccable quality, this is a quality grill with a highly heated grilling surface and is a great value for its price.
Material: Stainless Steel
Weight: 11.6 pounds
Dimensions: 14 x 13 x 6 inches
Cooking surface: 600 square centimeter
This indoor electric grill is quite versatile and offers convenience for all types of grilled foods. Its "Automatic Sensor Cooking" technology automatically adjusts the temperature and cooking time in accordance with the thickness of a number of items placed on the grill. So, you don't have to lurk near the machine to check the progress. It has 6 cooking programs (red meat, burgers, poultry, sandwiches, sausage, fish) to adapt to the adequate temperature automatically. It comes with 600cm2 cooking surface that is made with non-stick die-cast aluminum plates. An indicator light allows you to monitor the cooking process. It comes with a frozen and manual mode. 
Features –
Nonstick, dishwasher- safe cooking plates.
A colorful light to indicate the cooking process.
Cooks fresh or frozen meat automatically
Quick and tasty results.
Automatic Sensor Cooking" technology to cook many dishes perfectly, unattended.
Considering the performance of this countertop grill, it is well-priced and totally justifies its price tag.
Surface: non-stick
Weight: 1.7 pounds
Dimensions: 12.6 x 2.2 x 13 inches
Versatile: Our stove grill is safe to use on both electric and gas stoves
Switch to this healthy and delicious alternative to pan-frying or broiling that brings the great taste of outdoor food inside. This double-coated stainless grill lets you cook healthier and better-tasting food without much effort. Its healthy cooking reduces fat and cholesterol in foods while sealing in their flavor and juices. The non-stick stovetop eliminates the need for any oil or butter. It is made of non-stick "Teflon" coating that provides quick and even heating without sticking. Also, it makes cleaning safe and easy. It has an integrated drip pan that catches excess fat and grease and prevents flare-ups. Fill the stainless steel drip pan with water to eliminate unpleasant smoke. 
Features –
Integrated drip pan to catch excess fat and grease
Double-coated non-stick surface makes cooking and cleaning easy.
Double-coated stainless grill ensures healthier and better-tasting food.
Safe to utilize on both gas and electric stoves.
Lightweight and easy to carry along.
A healthy and delicious alternative, this smokeless Grill is a total value for money. Delivering an impeccable performance, it is worth the money.
Conclusion
To enjoy the perfectly seared taste of grilled meats, veggies, and other dishes, indoor grills are the best way for convenient and healthier cooking. There will always be a lot of extras features when you're making a big purchase, but don't be lured by them. A grill needs to be functional, not decorative. Look for the ones you need and make a purchase accordingly. Invest in a good-quality lid for a quality cooking experience. Things To Look For When Buying An Indoor Grill Choose an indoor grill that can be cleaned easily after cooking. Look for grill plates with nonstick coating as it eliminates the need for oil or butter. Look for a drip tray as it catches grease that runs off the food. No matter which grill you choose, buy the one that can serve your family in one go and can easily sit on your kitchen counter. If you plan to grill versatile dishes, then purchasing a grill with adjustable temperature control feature is always a good idea. Types of Indoor Grills With indoor grills, grilling is no more confined to the warmer weather. Indoor grills are of two types:
1. Contact grills- With contact grills, you don't have to flip the food repeatedly, so they take less time to cook. Grilling is easier and a lot more fun with these grills. These grills are a bit hard to clean, especially if the plates are non-removable.
2. Open Grills- These grills contain a glass lid that gives food a tender and juicier flavor. For most of the open grills, the grill plates are removable, thus easy to clean. Because of the open upper part, more or less the experience is the same as outdoor grilling.
How To Clean An Indoor Grill? The nasty grease and all those juices drip down onto the grill surface, making it necessary to clean the indoor grills regularly. These days indoor grills come with nonstick coatings and removable grill plates. Often, the removable drip plate will be dishwasher safe, making it easier to clean. Here are the ways to clean the non-removable plates on your indoor grill:
1. Unplug the grill and let it cool
2. Use a rubber spatula to loosen any food debris stuck to the plates.
3. Use a non-abrasive sponge to clean your grill plates rather than a scouring pad as it destroys the nonstick surface.
4. Wipe down the plates with hot and soapy water using a soft sponge.
5. Let them dry and put the clean plates back on the grill and close it.
Is it healthy to cook on electric grills? Grilling food is a healthier option compared to our regular cooking methods. Electric grills are a safer alternative to gas and charcoal grills. The best part is that electric grills ignite easily and maintain an even temperature from start to finish. The high heat from the grill seals in the moisture and keeps food tender, so there's no need to add oil or butter. These environment-friendly grills don't release a ton of toxic substances into the air. They are perfect if you want to have some substantial protein with the fat melted off. What Are The Benefits Of An Indoor Grill? 1. Money-Saving-
Indoor grilling systems are cheaper in comparison to the outdoor grilling system. Grilling on electricity cuts down the cost plus it is also an environment-friendly option.
2. Fast and healthier-
With indoor grills, you can make a great grilled meal in no time. Just plugin, and let it heat up. There's no heavy charcoal bags or propane tanks. Also, they use high heat and little added fat, thereby offering a healthier meal.
3. Easy Cleaning-
Indoor grills are easy to clean as they don't need any extra preparations. Electric grill surfaces are often made with nonstick coating, and many are dishwasher safe. Just throw your grill in the sink, soak it and wash it like any other kitchen utensil.
Familiarize yourself with all the equipment and tools, before making a purchase. Buy the one that fits your needs, your lifestyle, and your budget.