Cuisinart WMR-CA Round Classic Waffle Maker Review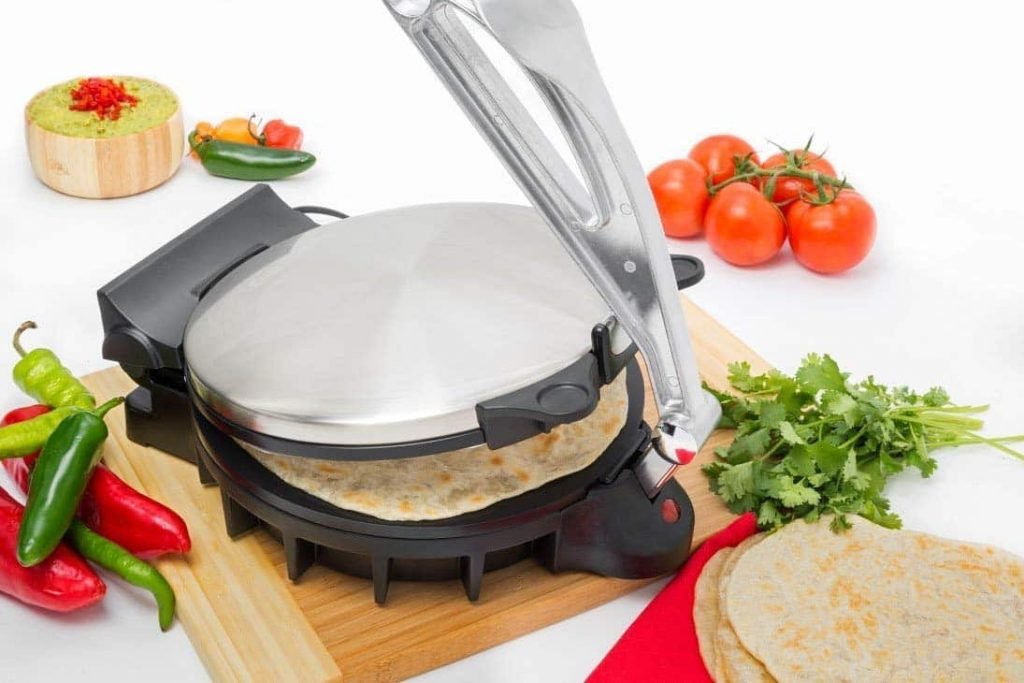 Cuisinart WMR-CA Round Classic Waffle Maker Review
Material: Stainless Steel
Colour: Stainless Steel
Dimensions: 15.50 L x 9.75 W x 9.30 H inches
Weight: 12 pounds
For all the waffles lovers out there, you are in absolute awe of waffle, we have got a special thing for you which is more than what you would call good. For the best experience, especially baked by you, with the perfect way it must be done. We have a special appliance for you, which is exclusively designed to meet the waffles demand of people – Best Round Waffle Maker by Cuisinart. This appliance is made with gleaming stainless steel which is an add on for baking fast waffles. The other things put together are Nonstick plates, indicator lights and a regulating thermostat which makes operations easy. Alongside comes a five-setting browning control meant to give your waffle the balance of perfection. The best way of consumption is, adding in a pinch of different flavors ranging from chocolate waffles with ice cream. This would be an advanced version of a normal ice cream sandwich; to cheddar cheese and chive waffles as an out-of-the-ordinary complement to soup or chili. This is the best way out of your mainstream breakfast.
Cuisinart WMR-CA Features 
Browning Control Adjustment
For the people who have diverse interests and likes, we have come up with Five settings which you can customize according to your likes. Any kind and colored waffles can be made, starting from light brown and ending with deep golden brown to match the compatible likes and dislikes of the great user and potential customers. With the ease of making waffles at home, you can even experiment with all the 5 different kinds of waffles. After this, see for yourself which is the one you would love the most. After all, everyone needs a change but only a few are daring enough to experiment.
Indicator Lights
This appliance comes with a built-in signal feature. Two signals which would indicate two different jobs done. You need to preheat the waffles maker before you put in all the raw material and so when switched on, the maker will give you a signal indicating waffle maker is ready to bake. The second type of indicator is when; your waffles are ready to eat. The maker will indicate you every time your waffles are made in order to ensure they are not overcooked or undercooked.
Weighted Lid
The batter, when baked in the form of waffle, has to rise in order to make the waffle. This usually leads to the rising of the Lid. If the lid rises, you waffle will be half baked i.e. the upper part of the waffle will not be baked as the lid has risen and is no longer in contact with the waffle in order to facilitate baking. So, Cuisinart has been made with a lid heavy enough to stay put on the waffle but not to crush it down. The lid will as a result not rise as waffles bake with perfection.
Rubber Feet
The base of this waffle maker is made of rubber. This is because when you bake a waffle, chances are; the batter would stick onto the lid or simply moves away from the feet. In order to prevent marking countertop and keep unit steady, the Cuisinart waffle maker is made with rubber feet.
Brushed Stainless Steel Covers
Along with the working capability, everything needs a polished look. Everything is preferred when is presentable. After all, you do not want a shabby thing in any part of your home, including the washroom. The kitchen is the place which needs to be the most presentable. To meet the needs of a Clean and sleek look, we have come up with a stainless steel countertop which is light weighted for you to carry it easily and also would attract the eyes of every onlooker.
Cord Storage
For a product which is so much of help, one would always be concerned about its storage. Storing a product with stainless steel covers is quite a bit difficult. So, in order to make your storage task easy, Cuisinart waffle maker comes with cord wraps under bottom which would ease your storage concerns.
Make the perfect waffles Cuisinart recommends a heat setting of #3 if you want a golden brown waffle which is the preference of most of the consumers. But, if you are a lover of crispy waffles and prefer it crispier than a normal golden brown waffle, which would also be darker in color, you can increase the browning control to setting #4 or even 5 based on your preference. You would, of course, want an evenly filled waffle. For the same, we recommend you should pour the batter onto the center of the lower grid which would evenly spread the batter, once the lid is placed upon it. If you wish to know the quantity for a perfect and evenly filled waffle, we recommend the use of 1/2 cup batter per waffle. Waffles are best when made to order, but baked waffles may be kept warm in a 200°F oven. Place in a baking pan or wrap in foil while in the oven. Waffles wrapped in foil may lose their crispiness. Baked waffles may be frozen. Allow to cool completely, then place in a plastic food storage bag. Use waxed paper to keep waffles separated. Reheat in a toaster or toaster oven when ready to use. Suggested Toppings
You can give your waffle a twist of taste by adding in Maple syrup or fruit syrup on top of the resulted waffle.
Adding in a few kinds of sauces also enhance the flavor of the waffle. Add in any of the three Chocolate sauce, fruit sauce, warm fruit compote, as per your interest or you can even add all of the three sauces together.
For a cooling and soothing look as well as taste, you may add in Powdered sugar or cinnamon sugar blend which would be an add on if you ever served it to your guests.
Nuts can be a great choice too if you are a nuts addict. You may add in chopped almonds, walnuts, pecans, macadamia nuts. Add the one your love, or if you love them all, add them all.
As fruits, suit the best for cakes, so do the suit with waffle Maker. Any varieties of berries are perfect to go with a waffle.
The dairy product won't add in a variety of flavors by they are a personal favorite of a lot of people. So, you may add Whipped cream; ice cream; sorbet or even yogurt to your waffle.
Pros
Capable of Baking one large traditional-style waffle

5 different browning control settings

Regulating thermostat

Baking plates are made nonsticky

Clean and sleek look with brushed stainless steel housing

Indicator lights of Red and green which indicate ready to bake and ready to eat

Comes along an instruction/Recipe book

Affordable

Warranty card
Cons
This product has no cons as all the needs of the customers have been looked upon through Cuisinart WMR-CA Round Classic Waffle Maker Reviews. You may contact any of our customer care numbers in case of any of the queries you come up with.
Cleaning and Maintenance
The cleaning and maintenance of this product are very easy but for a clear insight, here is a detailed instruction set. After you have finished baking, do not forget to remove the plug from the electrical outlet. Let the grids cool by leaving the top lid open for the grids to begin cooling. Note that a waffle maker never comes apart so while cleaning never take your waffle maker apart. All you have to do is brush crumbs from grooves, and in order to absorb any excess cooking oil wipe it out with a dry cloth or paper towel. You can even wipe the grids clean with a damp cloth. It would prevent staining and sticking from batter or any kind oil builds up. Note that the grids have to absolutely cool before you get started with the cleaning. If you are not able to get rid of the batter adhered to the plates, pour a little cooking oil onto the baked batter and let it stand still for around 5 minutes. This would soften the rigid batter and would easily be removed thereafter. If you want to clean the stainless outer steel, wipe it with a soft dry cloth. Make sure you never use an abrasive cleanser or harsh pad. Conclusion The Cuisinart waffle maker is the best waffle maker you could ever ask for. All the features provided to it are a result of a closely kept watch on the diverse need of the customers. From the moment you buy this product till the last time you use it, you are assured with the most seamless experience. If you wish to seek the experience of the existing users, you may check on the same through Cuisinart WMR-CA Reviews. The product is sure to make you fall in love as it is the Best Budget Waffle Maker by Cuisinart.