Best Pasta Maker Machines Reviews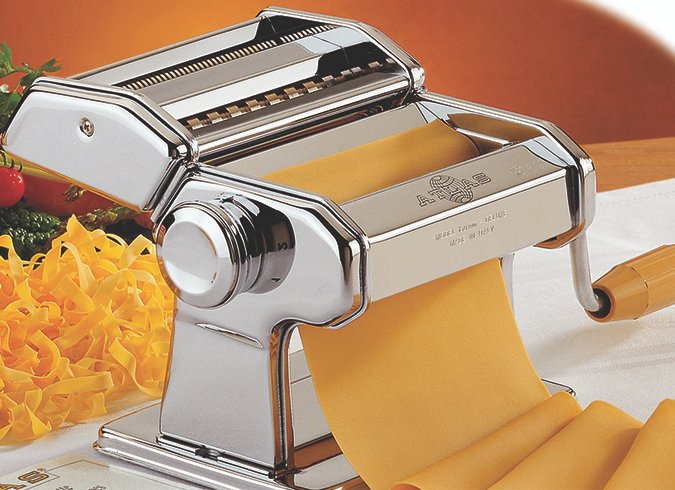 Best Pasta Maker Machines Reviews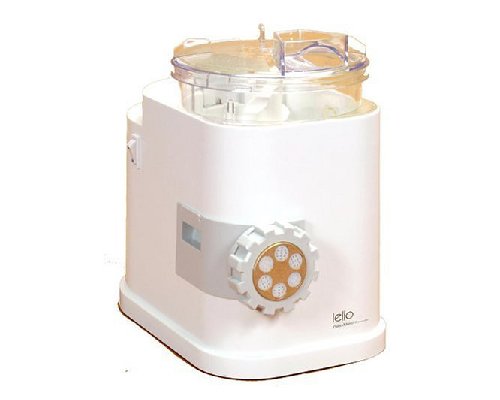 Dimensions: 12 x 8 x 12 inches
Weight: 23.8 pounds
Capacity: 2 liters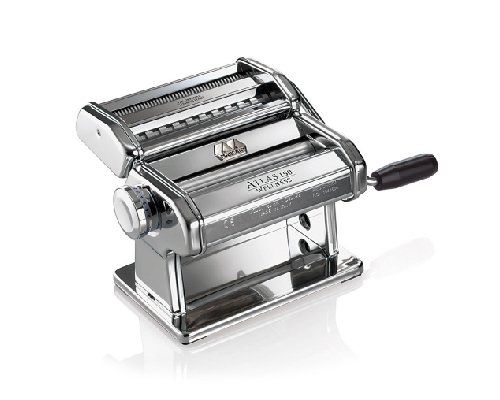 Dimensions: 7.8 x 8.3 x 6.5 inches
Weight: 1 pounds
Colour: Stainless Chrome
warranty: Limited one-year manufaturer's warranty

Best Pasta Maker Machines Reviews
Who doesn't love hot sizzling pasta, in the comfort of your home after a hard day's work? Making your very own pasta is a joyous ride. Fortunately, with pasta makers, you don't have to do it the old way. The whole pasta making process is quite easier and faster these days, provided that you have a good pasta maker.
 If you're hooked on the delicious, fresh, and authentic taste of pasta, then it's worth investing in a pasta maker. From picking the desired ingredients to ultimate control over the finished product, using a pasta maker can be a lot more fun and exciting.
 However, picking the right pasta maker for your needs can be a difficult task. To help you decide whether this is the right pasta machine for you, we have listed 10 best pasta maker machines that will take your pasta making experience to the next level. Take a look:
The machine automatically mixes, kneads, and extrudes pasta, and is quick enough for everyday use. With advanced engineering, it exerts a force of more than 1600 pounds, which enables the pasta making process to go as quickly as possible while keeping the texture and taste of the pasta intact.
 It lets you customize and personalize your own pasta, thereby you can incorporate fresh & healthy ingredients like egg, spinach, and carrot juice or anything for that sorts just the way you like.
 Experimental enough, it includes four shaping discs for Penne, Fettuccine, Lasagne, and Spaghetti. You can make a lot of different kinds of pasta. The Philips Pasta Maker comes with a handy storage drawer where you can store your pasta shaping discs.
 Another welcome addition is a colorful recipe book with over 20 different pasta dishes. The specially designed cleaning tools matching the shaping discs make cleaning an easy one-push job. It is one of the most user-friendly pasta makers that you'll come across.
 If you are looking for the easiest and quickest way to make pasta at an affordable price, then Philips Pasta Maker is a clear winner.
Features –
Automatic mixing, kneading and extruding in one go.
Unique shaping discs to create various types of pasta.
Fresh and flavorful pasta in just 15 minutes.
Smart drawer design for shaping discs storage.
Easy one-push cleaning.
Automatic shut-off in the case of overheating.
High-quality automatic pasta machine
Dimensions: 13 x 15.5 x 11.9 inches
Weight: 10.36 pounds
Colour: White
With powerful and automatic mixing, kneading, and extruding, this little beast allows you to make pasta in minutes. This powerful electric machine includes an extruder that produces the pasta in your desired shape in as little as 20 minutes. It can exert 1600 lb force on the dough during extrusion, which enables a quicker and smoother pasta making process. It's a beginner-friendly machine that is quite easy to operate. All the buttons are clear and easy to read. It includes four shaping discs for penne, fettuccine, spaghetti, and lasagna and offers you full control over cutting the finished pasta to your desired length. You can personalize your pasta by adding in fresh and nutritious ingredients like eggs, spinach, and carrot juice to create healthy homemade pasta and noodles. With removable dishwasher-safe parts and specially designed cleaning tools, cleaning is a breeze. A smart built-in storage drawer at the bottom of the machine helps you stay organized. So, if you are looking for a high-quality automatic pasta machine and are ready to spend a few more bucks for that, you should consider buying this model.
Features –
Includes four shaping discs.
High-quality automatic pasta machine.
Flour and liquid measuring cups.
Makes a pound of fresh pasta or noodles within 15 minutes.
Straightforward and easy to use.
Specially designed cleaning tool for easy one-push cleaning.
Dimensions: 7.8 x 8.3 x 6.5 inches
Weight: 1 pounds
Colour: Stainless Chrome
warranty: Limited one-year manufaturer's warranty
This traditional pasta roller is made of heavy-duty, shiny chrome plated steel that lets you create a variety of noodle shapes easily. From the wooden handle to its steadfast table clamp, everything about this machine is exclusive and elegant.
 It includes a 6-inch wide roller with a double cutter head that makes thin spaghetti and wide fettuccine noodles.
The 'Easy-Lock' adjustment dial with a wooden grip handle ensures the desired level of thickness and the perfect consistency. Whether you're making spaghetti, farfalle, or fettuccine, all the models and machines will make the process easy and smooth.
 To expand your pasta repertoire, this machine comes with a pasta recipe book. Particularly easy to use and clean, it's guaranteed to make the most delicious pasta you will ever taste!
 The main downside of this machine is that the roller knob requires two hands to move. This high-end machine is absolutely the finest and at a reasonable price.
Features –
Includes double cutter for spaghetti and fettuccine.
7 thickness settings to make your desired pasta.
Easier to grip wooden handle.
Easy lock thickness adjustment dial.
Simple and user-friendly design.
Material: Nickel-Plated Steel,
Dimensions: 8 x 8 x 7 inches
Weight 5.42 pounds
Capacity: Hand crank pasta machine
Made from chrome-plated steel, it is called the Ferrari of the pasta machine world due to its incredible performance.  Attention has been given to the smallest details, which enhances the elegance and durability of the product.
 Compact enough to be easily clamped onto your countertop, it comes in various colors for you to choose from. With Atlas 150 you can easily make lasagna, fettuccine, tagliolini, and varied other pasta shapes with its huge range of add-on accessories.
 This manual pasta machine has an adjustable dial that offers three settings and 10 thickness options, ranging from paper-thin to ¼-inch. The rolled pasta cooks more evenly and absorbs all the delicious sauce.
 Believe us; no one can go as thin as the Marcato. As far as cleaning is concerned, simply wipe it off with a dry brush or cloth. Perfect for slow-food enthusiasts, Atlas 150 is a perfect combination of quality, function, and design.
 If you are looking for an incredible pasta maker that will last your lifetime, and are ready to spend a bit more on it, then look no further.
Features –
Hand crank pasta machine.
Adjustable to 10 thickness positions.
Easy and effortless to use.
10-year warranty, which is hard to find on other pasta maker machines.
Material: Stainless Steel
Colour: Sliver
Dimensions: 7.6 x 4 x 10 in
Weight: 6.61 pounds
This 3-Piece Pasta Roller set includes Pasta Roller, Spaghetti Cutter, and a Fettuccine Cutter. Featuring a sleek and stylish design, this low-profile cutter is lightweight enough to be easily stored in your kitchen cabinet. The rollers and cutters are made of stainless steel for smooth rolling & clean cutting of pasta dough.
 With 8 thickness settings, it lets you adjust the pasta to your desired thickness. It includes 6 quick-change discs. This pasta maker is compatible with all KitchenAid Stand Mixer machines.
 It effortlessly forms six-inch sheets of pasta rolls to create your ideal noodles, with almost no effort on your part. The built-in wire cutter offers you complete control over the length of the pasta.
 The end result of this versatile set is terrific and presentation worthy. Unlike other hand-crank pasta makers, it can be easily operated by one person only. The roller and cutters are extremely easy to use and clean.
 For homemade pasta lovers, it's a great investment that's worth the price. But, it only makes sense to buy this attachment if you have a KitchenAid stand mixer.
Features –
Excellent rolling and cutting speed.
Powered by the KitchenAid Stand Mixer.
Attachments are easy to switch out.
Easy to store.
Material: Stainless Steel
Dimensions: 7.8 x 8.3 x 6.5 inches
Weight 1 pounds
Colour: Stainless Chrome Silver
The Weston Pasta Machine combines old-world tradition with modern technology to provide you with the best pasta possible. It comes with a quality body built and has a classic design. The base is relentless, and it automatically shuts off when the rollers are exposed.
 This 6-inch machine allows you to knead the dough and shape the pasta easily. It has been tested for health and personal safety so you can use it without worry. It has adjustable rollers for multiple thickness settings that help in preparing seamless pasta variants in your desired shape.
 The C-Clamp can be used to attach the pasta machine to a countertop for stability. So, it won't shake while you make pasta. However, the problem is that the clamp does not secure to most countertops and tables. It comes with an easy to follow recipe book and instructions to get you started.
 It is perfect for people who are not yet pasta connoisseurs but still need that flavorful tasting fettuccine and ravioli. Available at an extremely low price, it is an excellent addition to any household. Due to its low price tag, it is a famous alternative for pasta lovers.
Features –
Double cutting head helps prepare spaghetti & fettuccine.
Automatically shuts off when the rollers are exposed.
C- clamp for attaching to a table.
Adjustable rollers for multiple thickness settings.
Material: Stainless Steel
Dimensions: 6.4 x 8.2 x 8.4 in
Weight: 6.13 pounds
Colour: Chrome Silver
Built to last, it features stainless steel rollers & blades, that speak of durability. It is equipped with some amazing features that would put some pricey top-of-the-line machines to shame.
With this traditional hand-cranking method, you can easily make delicious spaghetti, linguine, fettuccine, and pasta sheets in no time and at a fraction of the cost. The exterior is quite simple and definitely for those who love minimalistic designs.
The easy click adjustment dial lets you roll through 9 different thicknesses settings for the perfect dough. It includes 3 detachable blade attachments to create various styles of noodles. Not only this, you can easily make your sheets of pasta to be cut into ravioli, tortellini, lasagna, and so much more.
This simple machine can be a bit tricky to clean. However, it's detachable blades are dishwasher safe. The crank handle can be removed for easy storage. Given the unbeatable price and versatility of this machine, it is definitely worth the consideration.
Features –
3 interchangeable Stainless Steel blades.
Removable Easy Crank Handle.
Easy click adjustable dial.
Economical and easy to use.
Pre-drilled holes for easy clamping.
This pasta maker attachment easily connects to a slow-speed power outlet on Cuisinart stand mixer to make you fresh pasta in minutes. The sheet roller lets you make fresh lasagne or hand-cut pasta, while the other two cutters make Fettuccine or spaghetti.
 With 8 size adjustments, it enables you to make a variety of pasta of different thicknesses. With a total of 6 plates, you select between spaghetti, macaroni, large macaroni, rigatoni, fettuccine, or lasagna.
 Assembling it is quite simple, and all the parts are dishwasher-safe. This pasta attachment set is backed with a 1-year warranty and comes with an instruction and recipe book to get you started.
 It includes a cleaning tool, which makes the cleaning process easier. Quite user-friendly, with this attachment making homemade pasta, will become an everyday affair. Overall, it works well and is worth the investment. But, it only makes sense to buy this attachment if you have a Cuisinart stand mixer.
Features –
Six pasta plates to select your desired type.
Connects to the slow-speed power outlet on the Cuisinart Stand Mixer.
Dishwasher safe.
Ideal for making fresh lasagna, spaghetti, or fettuccine.
If you are a fan of homemade pasta, then nothing can beat the convenience of an electric pasta extruder. The best part is that it can make shapes that regular pasta rollers can't.
 It offers 8 different pasta discs for you to make great tasting pasta. From spaghetti to lasagna noodles to linguine, this versatile machine can pretty much do it in seconds. The best part is that switching between the discs is also simple.
 It is perfect both for home cooks and professional chefs alike. This full-cycle pasta machine features a 300-watt motor that is effective enough to make 3 pounds of pasta in about 20 minutes. The safety function includes auto shut-off for overheat protection.
 This UL-listed machine requires the mixing bowl and cover to be in place for operation, thereby ensuring the user's safety. It is not a lightweight machine, so if you frequently carry your pasta machine in and around the house, then this is not a good option. The welcome addition to this maker is a recipe book that contains 38 delicious pasta recipes.
 Given the efficiency and speed of this pasta extruder, it is well worth the price.
Features –
Built-in overheating protection.
300-watt powerful motor.
8 different pasta discs.
38 recipes included and user manual.
Dimensions: 8 x 7.75 x 6 in
Weight: 12 pounds
Colour: Silver
Material: Made of chrome coated steel
Made of shiny chrome coated steel, this pasta maker is durable and long-lasting. Its intuitive design will easily complement any kitchen. This deluxe set includes 3 attachments to make authentic and delicious spaghetti, ravioli, and lasagna.
 High-quality craftsmanship and ease of use separate this pasta maker from others in the same price range. With its 6-inch wide roller, you can choose the width of the pasta noodles. The adjustment dial mechanism lets you select the desired thickness of the pasta sheet.
 Rolling dough through this pasta machine is quite effortless; just create flat sheets of pasta and catch them through the spaghetti and fettuccine cutters. It has everything you need to make fresh fettuccine, spaghetti, ravioli, angel hair, and lasagna at your home.
 The table clamp keeps everything still and easily secures the appliance to your kitchen counter. Cleaning this pasta maker is not an easy task, but then it's worth the result.
 This machine is not perfect; it does have some flaws, but they are surely not significant enough to be deal-breakers. Overall, this high-end manual pasta roller is excellent for beginner pasta makers and is well worth the price tag.
Features –
Durable stainless steel construction.
Seven thickness settings.
3 blade attachments for a different kind of pasta.
Table clamp included.
FAQ
 Best Pasta Maker Buying Guide
 Nothing can beat the taste of a freshly prepared homemade pasta. The taste, quality, and texture are truly incredible and a lot better than the boxed pasta. Making your pasta from scratch gives you full control over the type and quality of the ingredients and the end result.
 A lot of people have a perception that making homemade pasta is a tedious process, and it requires a lot of patience and effort. And we won't deny any of it. But, having a right pasta maker meant for your needs can make the whole process faster and efficient.
 To help you pick a suitable one, we have rounded up a few essential things that need to be considered before making a purchase. Let's explore: 
 What Makes A Good Pasta Maker
 A lot of factors need to be considered when shopping for a pasta maker. Let's talk about them:
 Types of Pasta Makers
 When searching for the desired pasta maker, you'll find two main options to consider. And while selecting between the two, it comes down to your time, budget, and preference.
 They are a more traditional way to make homemade pasta and requires significant time and effort on your part. They have a classic design that makes use of the manual handle to revolve around rolling the pasta; then the machine's cutting tool snips it at the end to create the desired pasta.
 These machines are limited to the type and variety of pasta you can create. However, they work best for pasta styles like fettuccine and spaghetti.  They are sturdy, durable, and are relatively cheaper than automatic machines.
 From holding the dough to turning the machine's crank; everything has to be done manually on these machines. They are usually found in home kitchens due to their affordable price tag
2) Automatic Pasta Maker
As the name suggests, these machines are engineered to do all the work by themselves, thereby making the process quicker and easier. They require an electrically powered motor to function. 
All you have to do is make the dough, feed it into the machine, and the desired pasta is ready. With an electric pasta machine, you'll find makers that use both rollers and extruders. The electric machine with rollers functions similar to the manual one, except it uses an electric motor to move the rollers and flatten the dough. 
They allow you to make a wide variety of pasta easily. Cleaning this machine is relatively easier as most of them have parts that can be easily disassembled and tossed into the dishwasher. As they are completely automated, they don't have to be clamped down for a safe operation.
Although it costs more than manual pasta makers, given plenty of options and specifications, the extra cost is totally worth it. It is worth considering if you make pasta quite frequently and need a faster process to ensure the desired thickness.
Caring for Your Pasta Maker
Pasta makers have lots of corners for the dough to get into, therefore it requires a thorough cleaning. Maintaining a pasta maker is not an easy thing to do and requires constant effort on your part. So, here are things you should keep in mind so that your pasta maker lasts longer:
Read the instruction manual thoroughly,
Make sure to clean the pasta maker regularly and remove any remains of the pasta that get stuck inside the machine.
Unless mentioned, don't use water to clean the pasta maker, as most of them are made of metal and will rust if exposed to water. Always use a clean, dry cloth to clean the pasta maker.
Conclusion
If you binge a lot onto pasta and noodles, then make a healthier choice by preparing them at home. Why buy pre-packaged pasta when making it fresh is so easy and beneficial. Needless to say, it tastes way better.
However, before you buy one, make sure to check the reviews and read about other customers' experiences with the product so that you don't end up buying the wrong one.