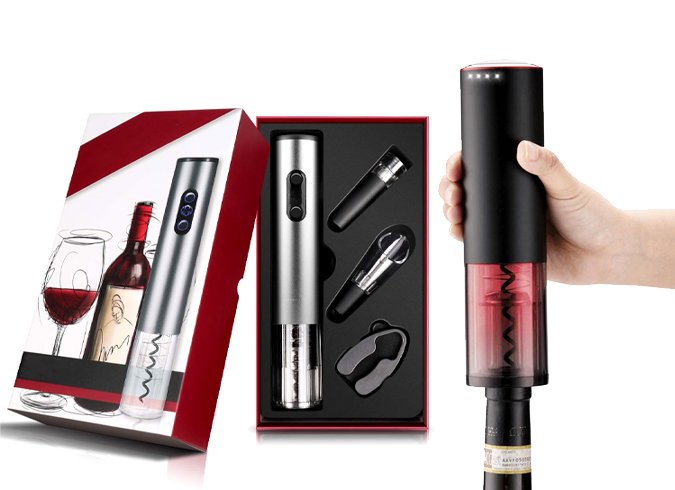 Best Wine Coolers Reviews 2020
Best Wine Coolers Reviews 2020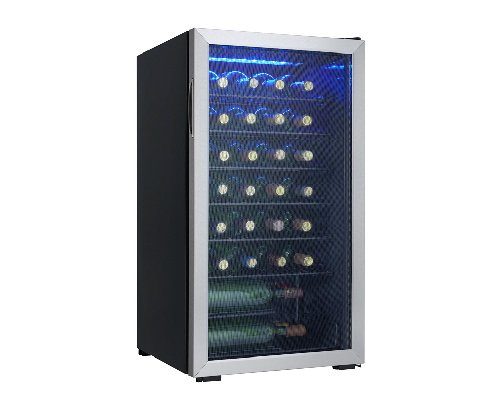 NutriChef Thermoelectric Wine Cooler
Colour: Black
Weight: 33.1 pounds
Capacity: 50 liters
Dimensions: 20 x 13.6 x 25.4 inches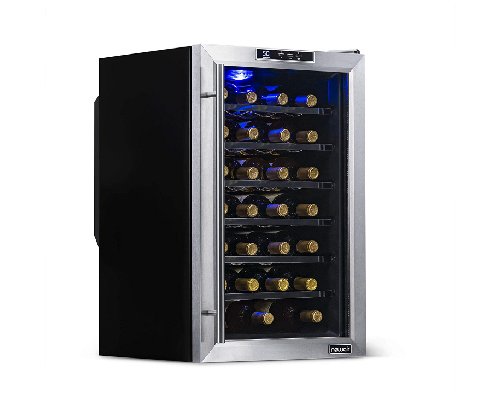 Capacity: 3.3 cubic feet
Weight: 69 pounds
Dimensions: 20.1×17.5×32.8 inches
36 bottle free-standing wine cooler

Weight: 44.2 pounds
Capacity: 40 Pounds
Colour: Black
Dimensions: 17 x 20 x 28.8 inches

Best Wine Coolers Reviews 2020
Colour: Black
Weight: 33.1 pounds
Capacity: 50 liters
Dimensions: 20 x 13.6 x 25.4 inches
Whether you're a novice wine collector or an experienced connoisseur, proper wine storage is essential to get the best taste out of each bottle. The only way to protect the quality and taste of your wines is to store it the right way, in the right environment, and with consistent temperatures.
 A wine cooler is the best way to ensure that your wine ages at a consistent level. Apart from serving the optimal temperature for quick serving, the benefits of owning a wine cooler are numerous. Be it for short-term enjoyment or long-term storage, investing in a professional-grade wine cooler is a must.
 However, amid plenty of options, choosing a wine fridge that's best for you is not as easy as it seems. There's a lot of things to consider, which is why to help you out, we have put together 10 best wine coolers that are specifically dedicated to keeping your wines in the best of taste. Take a look:
This premium wine cellar by NutriChef will chill your favorite wines to perfection. Its sleek design with reinforced glass door will instantly elevate any room decor. Equipped with impressive features and high-precision thermoelectric cooling technology, it ensures efficient storage at the perfect temperature.
 This freestanding model comes with a built-in digital touch-button display panel and integrated LED light adds a sophisticated touch to your place. The polished chrome wine racks have the 12-bottle capacity and can be flexibly arranged with ease. It is lightweight and small enough to move between rooms effortlessly.
 The ultra-quiet performance of this wine cooler is hard to beat, even when you come close to it. The temperature control panel on the exterior makes it convenient to adjust the settings without opening the refrigerator door.
 It has been treated with an anti-UV layer, to prevent sunlight from changing the overall taste of your wine. The ventilation grill and built-in cooling fans distribute cool air throughout your wines. Backed by a 1-year warranty, it is a perfect fit for any wine enthusiast.
 Suited for both red and white wines, this multifunctional cooler is incredibly affordable and totally worth the purchase.
Features –
Space-saving, elegant design
Ultra-quiet performance
Thermoelectric cooling technology
Built-in interior fans and ventilation grill
Pros
Digital touch button display panel is convenient to use
Ultra quiet cooling system

Sturdy and quality-built

Affordable price tag
Cons
Small wine cooler that is not suitable for large families
Lacks dual-zone capability
Bottles with unusual shapes or with extra-large size won't fit properly
Capacity: 3.3 cubic feet
Weight: 69 pounds
Dimensions: 20.1×17.5×32.8 inches
36 bottle free-standing wine cooler
This 36-bottle freestanding wine cooler is spacious enough and offers 3.3 cubic feet of cooling space to store your favorite wines. The elegant tempered-glass door combined with blue LED interior lighting radiantly exhibits the wine bottles. This glass door, combined with stainless steel trim, also protects the wine from harmful UV rays. The stylish-recessed pocket-style handle and the convenient reversible door easily swing for left- or right-hand opening. This freestanding cooler just needs an outlet to function, thereby giving you the convenience to place it anywhere in the house. There is no incandescent bulb to interfere with the chilling process. If you are looking for a large capacity wine cooler, to add a touch of class to the kitchen or bar area, without breaking your bank, then this one is a perfect fit.
Features –
Tempered-glass door protects from UV rays
No incandescent bulb to interfere with the chilling process
Single-zone cooling
Black wire shelves, a temperature range of 43°F and 57°F
Pros
Powerful compressor cooling
Handy, reversible door
Large capacity to hold an impressive collection
Cons
Unstable and fluctuating temperature
Not suitable for built-in installation
Controls aren't digital
Weight: 44.2 pounds
Capacity: 40 Pounds
Colour: Black
Dimensions: 17 x 20 x 28.8 inches
The minimalistic design accented with sleek stainless steel will seamlessly blend into any decor. Its trend-forward styling is a welcome addition to almost any room of the house. The thermoelectric cooling system can easily keep up to 28 bottles of wine on 6 pull-out chrome racks that are removable for easy accessibility and convenient bottle loading.
 It is simple to assemble, set up, and use. Equipped with compressor-less technology, it reduces noise and eliminates excess vibration that can impact the quality of your wine. The digital temperature display mounted on the doorframe allows precise temperature adjustment so that your wine is chilled to the perfect temperature always.
 You can set the temperature to minimize unwanted sediment agitation for improved taste. It prevents your corks from drying out, as it also retains humidity. The quiet and vibration-free operation reduces the long-term damage to the quality of your wines. The cool blue LED lighting instantly illuminates the whole wine collection.
 Loaded with an impressive range of features, this attractive wine cooler is suitable for chilling most white and red wines to the desired serving temperature. This wine cooler features an affordable price tag and is an excellent value for money.
Features –
28-bottle storage capacity with removable shelves
Digital temperature display for easy monitoring
Interior LED light makes it easy to see the collection inside
Vibration-free, low-noise cooling
Pros
Removable shelves for customized storage
Whisper-quiet cooling
Adjustable thermoelectric technology to set precise temperatures
Cons
Hard to accommodate larger bottles
Consumes a lot of power
Weight: 108.4 pounds
Capacity: 10 cubic feet
Connector Type: Water Line
Dimensions: 27.2 x 25.4 x 37 inches
Magic Chef cooler is a versatile solution for preserving or chilling wine. Its sleek design integrated with tempered-, smoked-glass door and a stainless steel handle lend a premium look to this cooler. It makes use of a compressor, which lets you maintain the desired temperature regardless of the external conditions.
 The chrome-sculpted wine shelves allow for easy placement and organization of bottles. The interior light instantly illuminates your entire collection for easy viewing.
 Composed of two temperature zones, the digitally controlled thermostat can chill and maintain two different types of wines at perfectly desired temperatures. The lower zone can hold up to 28 bottles, while the upper one can hold up to 16 bottles. All digital temperature controls are user-friendly and easy to use.
 The control panel allows the temperature setting to be locked from unauthorized changes. Apart from chrome-sculpted shelves, you can opt for other configuration options like glass shelves or convertible flat racks, depending on your needs.
 This Magic Chef Beverage cooler is a superior alternative to a compact fridge and is definitely worth its price tag.
Features –
This dual-zone version preserves both red and white wines at different temperature level.
Easy to use and operate controls
Interior light for easy viewing
Chrome-sculpted wine shelves for easy storage
Pros
Two independent zones
Easy-to-use controls
Digitally controlled thermostat
Control panel locking system
Cons
Difficult to accommodate thicker bottles
Layout makes it hard to spot the bottle of wine you want
Bottle Count: 50
Weight: 82.7 pounds
Capacity: 120 liters
Dimensions: 22.8 x 19.3 x 33 inches
This freestanding single-zone model is built from all-premium black-and-silver stainless steel that speaks of durability. The tempered dual-pane glass front adds a touch of sophistication while highlighting your wine collection.
 To keep the wine safe, its double-pane glass is coated with anti-UV layer. The exterior is lit by soft, blue LED interior lighting that displays your wine in elegant style. The beechwood racks can hold up to 52 bottles of your favorite wine vintages.
 The slat-style shelves and the interior fan allow even airflow around all bottles so that you get perfectly chilled wine each time. It plugs into a regular wall outlet, so you can easily place it anywhere in the house, wherever it is most convenient for you. The advanced cooling technology keeps the compressor quiet without disturbing wine sediments.
 The LCD temperature display adds to the convenience. The built-in thermal meter automatically restores to the set temperature to protect your wine collection from the increasing temperature. Overall, this high-end wine cooler costs more than other wine coolers in this range, but given the performance, it is a complete bang for your buck.
Features –
Removable beech racks allows for easy placement.
Double-pane glass with the anti-UV layer
Even airflow around all bottles
Quiet compressor cooling system
Pros
Wide temperature range and control
Quiet in operation
Removable wooden shelves to accommodate large wine bottles.
User-friendly controls
Cons
Single chill zone
Uses more energy than thermoelectric coolers
Colour: Black
Door Material Type: Glass
Weight: 42.2 pounds
Dimensions: 26.5 x 22.2 x 15.6 inches
This freestanding innovative wine cooler is equipped with functions to preserve the quality and rich flavors of your red or white wine so that its real taste remains intact. Its sleek and elegant design blends well with any room decor.
 The dual-pane, smoked-glass door allows visibility while protecting the wine against light and room temperature. Equipped with the high-tech thermoelectric cooling system, it makes considerably less noise than others. With the capacity to hold 18 standard 750ml bottles, the slide-out shelves are removable for easy storage.
 With an adjustable temperature range of 54º–64ºF, this compact cooler ensures an adequate temperature range and moisture-controlled climate to keep all your favorite wines chilled. Humidity control keeps corks from drying out. The cool LED lighting with on/off control enhances interior visibility.
 The ultra-quiet, the no-vibration cooling system will not disturb wine sediments. The easy-to-read digital LCD display allows for smooth operation.  This attractively priced refrigerator has been designed to create the perfect wine-drinking experience and is entirely worth the money.
Features –
Tinted glass door protects wine from harmful UV rays
Quiet, vibration-free operation
Stores your wine at the perfect temperature
Digital touch controls
Thermoelectric non-compressor cooling system
Pros
Removable slide-out shelves provide easy access
Efficient, quiet, and vibration-free operation
Anti-skid rubber base for better stability
User-friendly digital touch controls
Cons
Not a dual-temperature cooler
LED display light is way too bright
Difficult to accommodate the thick bottles
Capacity: 56 Bottles
Weight: 124 pounds
Dimensions: 23.6 x 23.5 x 34 inches
Full Range Digital Temperature Control
With a maximum storage capacity of 56 bottles, this large unit is perfect for wine lovers who love having diverse collections. This versatile piece gives a seamless look to any room.
 Featuring the company's revolutionary new FlexCount Series metal shelves, this cooler is strong enough to handle the weight of bulk storage without sagging. Accompanying it are wooden slabs slats that help minimize vibration.
 A clear LED display and user-friendly push-button controls make it convenient to regulate the temperature in your wine refrigerator. It utilizes a new, advanced cooling system that is more energy-efficient and greatly reduces the overall noise and vibration.
 The fan-forced cooling circulates air throughout the cabinet to protect your wine from any severe temperature fluctuations. With options like right- or left-hinged doors and towel bar or curved handles, you can customize it for your individual needs.
 Intelligently crafted and durably built, this will take your wine storage experience to the next level. This one is definitely worth the look.
Features –
Strong and revolutionary metal shelves.
The cutting-edge shelves maximize storage space
User-friendly digital controls.
Noise and vibration-free
Pros
Aesthetically pleasing
Easily store varying bottle shapes
Digital display with easy-to-use controls
Customizable to individual needs
Cons
Temperature fluctuations are noticed
A little more space in between the racks would have been great
Weight: 102 pounds
Colour: Stainless Steel
Door Hinges: Reversible
Dimensions: 23.4 x 22.4 x 33 inches
With a storage capacity of 33 bottles, this dual-zone wine cooler refrigerator will perfectly chill both your red and white wines. The seven beechwood racks can be easily removed to accommodate longer or larger wine bottles.
 Its powerful compressor cooling system ensures that your wines get the right amount of chill while making less vibration and noise. It is also more energy-efficient than other cooling systems.
 Its freestanding design allows you to place it anywhere in your home conveniently. The energy-efficient blue LED lights illuminate your wine collection. With its adjustable temperature settings, it cools to exact temperatures to meet your needs.
 The upper zone has a range of 40ºF to 50ºF, while the lower zone has a range of 50ºF to 66ºF. The user-friendly controls and an LCD display screen monitor the temperatures. Overall, it is an excellent choice that will totally derive the full value out of your purchase.
Features –
Energy-saving blue LED lighting
Adjustable temperature settings for that perfect chill
Less vibration and noise and less energy consumption
User-friendly controls
Pros
Silent with compression cooling
A wide temperature range to accommodate varied kind of wines
Adjustable and removable shelves
Digital touch controls
Cons
The digital thermostat may not always give the correct readings
May emit some heat until the compartments have completely cooled
Wattage: 70 watts
Weight: 94 pounds
Colour: Stainless Steel & Grey
Dimensions: 37 x 26.5 x 19 inches
This built-in wine cooler features a slim design that seamlessly blends into any home decor to match your specific wine storage needs. The stainless steel trim door adds the much-needed elegance to the overall design. The reversible double-paned tempered-glass door gives the option of swinging in two directions.
 With capacity for 30 bottles, its classic wood-trimmed slide-out shelves lets you showcase your treasured collection. The tinted-glass door protects your wine from the harsh light and UV rays. It also comes with a security lock, and the carbon filter protects wine from any odors.
 The intuitive touch control and digital temperature display let you adjust and monitor the desired temperature. Equipped with auto-defrost function, it has an internal fan that evenly circulates air.
 To deal with the noise, EdgeStar has installed rubber bushing, which helps absorb noise and vibration from the compressor. The blue interior LED lighting allows for easy visibility at night.
 Extremely popular, this attractive looking wine cooler will go a step further to protect your wines and is definitely worth the money spent.
Features –
Rustic, stylish look
The powerful circulation fans allow even cooling
Digital controls for easy temperature adjustment
Rubber bushing absorbs vibration and noise from the compressor
Pros
Black dotted door for UV protection
Reversible doors, allows for opening in 2 directions
Easily accessible digital controls
Carbon filter protects wine against harmful odors
Cons
Certain noise issues
When using it at full capacity, the wine bottles get tightly packed
weight: 33.9 pounds
Voltage: 120 volts
Wattage: 70 watts
Dimensions: 14 x 19.4 x 25.8 inches
With 18-bottle capacity, this freestanding wine chiller is perfect for storing your red or white wines. Equipped with a thermoelectric cooling system, it allows you to set the temperature as low as 54ºF and as high as 66ºF while protecting sediment.
It makes sure that your wine won't lose any of its original taste or aroma. Easy-to-use push-button controls allow you to monitor and adjust temperatures accordingly.
The chrome-plated wire shelves are easily accessible and can be pulled out to accommodate your collection. The cool blue LED lighting illuminates the entire collection. Suitable for medium-sized families, this wine cooler is a great choice to keep your wine collection housed in an optimum storage environment.
Features –
The compressor-free cooling system which operates quietly with low noise
Double-paned glass door for added insulation
Single-zone wine fridge with temperature range between 54ºF–66°F
Digital thermostat to chill wine to the perfect temperature
Heavy-duty glass door helps to improve insulation
FAQs
 Things to Consider When Buying a Wine Cooler
A lot of factors need to be considered before you make that perfect purchase. Take a look:
Temperature. When wine is kept at the right temperature (55ºF), it slows aging process significantly. Also, there is no loss of quality, color, or aroma. The dips and spikes in the temperature can spoil your wine. Therefore, a dedicated wine fridge with a steady temperature is the only way to go. Buy a dual-zone cooler if you drink both red and white wines.
Cost. Buying a dual-zone wine cooler or one with advanced features will cost you more. Consider your budget and requirements before making a purchase.
Noise and vibration. Most wine coolers make a noise similar to regular refrigerators. However, if you prefer something quieter, then go for thermoelectric ones as they produce fewer vibrations and noise than the compressor ones.
Capacity. If you have an extensive collection and entertain a large number of guests, then investing in a larger unit with more capacity makes sense. Also, make sure to pick the one that can accommodate your growing collection.
Single/double-zone cooling. A single-zone wine cooler has one temperature throughout and perfect for those who consume only one type of wine. However, if you have a collection of both red and whites, then investing in a dual-zone cooler is worth the investment.
Benefits of a Wine Fridge vs. Regular Fridge
If you want to get the best out of wines, there's nothing better than a wine cooler. The main benefit of a wine fridge over a regular fridge is that it offers constant and stable temperatures to maintain your wines in perfect condition.
 Refrigerators can create an environment that is too cold for a bottle of wine, which eventually will spoil the quality of your wine bottle.
Wine coolers are far more portable and offer you more control over the temperature, as well as the level of humidity. Not only are wine coolers inexpensive to buy, but they are low on maintenance also. Not only for wine, but these coolers can be used to store a lot of other beverages also.
 How to Select the Right Location for Wine Cooler
 Location hugely makes a difference in the functioning of your wine refrigerator. The right location will help boost the efficiency and longevity of your cooler. Avoid placing your coolers in areas that receive lots of direct sunlight or areas that dissipate a lot of heat.
 The units with front ventilation can be placed anywhere on their own. Countertop placement works best if you don't want to sacrifice floor space. Be it kitchen, dining room, or bar—just choose a location for your wine cooler that is easily accessible.
 Conclusion
 When it comes to buying a wine fridge, there is nothing known as a "perfect" wine cooler. Based on your preferences, you can pick the wine cooler that best suits your needs and budget. Research well, and make the right investment to keep all those white and red wine bottles perfectly chilled.
Pros
Exceptional temperature control
Compressor-free cooling system operates quietly
Adjustable shelves
Cons
A few durability issues
Digital temperature ratings may be inaccurate sometimes